Bry-Air Awards
To promote, motivate and encourage innovation in the Indian HVAC&R industry, Bry-Air had instituted the Bry-Air Awards for Excellence in 2005 and ran the Awards program for 10 years.
Every Awards function was graced by the (then) ASHRAE President and stalwarts from the Indian and International HVAC&R community.
The Awards were selected in a very transparent manner by an independent and eminent Jury.
Many innovative projects & products from students, individual innovators as well as by corporate houses have won the Bry-Air Awards for Excellence in HVAC&R.
Bry-Air CSR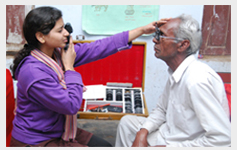 Bry-Air has always believed that it needs to contributes to the "industry" and the general "community".
Over the last few years, Bry-Air has taken many initiatives to encourage knowledge dissemination and innovation in the HVAC&R Industry viz.
• BALI : Bry-Air Learning Institute
• Bry-Air Awards for Excellence in HVAC&R
Now, it has expanded the scope to contribute and work towards the benefit of general community around its plants in Gurgaon, India.
Bry-Air's CSR (Corporate Social Responsibility) initiatives are focused on 3 areas :
• Vision
• Education
• Environment
Read more...
The Group